上記の広告は1ヶ月以上更新のないブログに表示されています。
新しい記事を書く事で広告が消せます。
【The Pier】
The shool arrange a one day trip to somewhere every 2 weeks.
We went to
Loch Katrine
and
callander
in Saturday.
The lake is nice and we cruised across the lake. I was very excited to take a steame- it's sail on the lake and the view betweem the valley is peaceful and beautiful.
Well....i know i always write something but seems not end...:P
[Jaunt-Loch Katrine] Read More...
スポンサーサイト
【Out of the classroom】
After the class we usually sit outside, have our lunch and enjoy the sunshine. It was great 'coz we were in different classes and we have chance to know eachothers.
[School life in Telford] Read More...
2005/07/05
The Royal Botanical Garden
The school arranges a little tour in every Tuesday and Thursday afternoon. Our first jaunt to Botanical Garden. The garden is nice and green (well....all garden are green :P)
here is some photos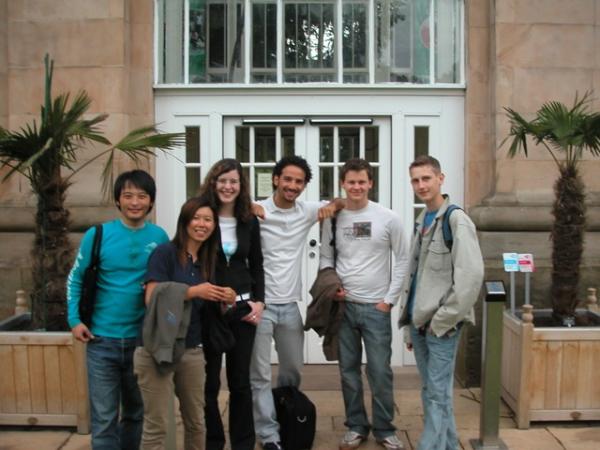 Haggis
, A traditional Scottish dish. It stuffs viscera and some flavors in sheep's stomach. Bake for few hours. Take the content out , mixed with mashed turnip and potato. Peter didn't tell me what that really ARE before eaten it. It was delicious!! Especially eating with the famous Scottish Whisky. Peter said that is the typical way to enjoy haggis (I mean Haggis + Whisky). After Jared told me what haggis made of. I started a little bit scared of eating haggis. Anyway, I'll try again next time.
Haggis 是蘇格蘭的名產,看起來有點像頂呱呱的呱呱包,只是size比較大一點,把羊的內臟之類的東西跟香草,檸檬等等香料,塞到羊的胃裡面,然後拿去烤,吃的時候把裡面的東西挖出來,跟蕪菁還有馬鈴薯泥混在一起配威士忌吃,其實還蠻好吃的,有點像米糕,我一度懷疑裡面有放米之類的東西,第一次吃的時候Peter並沒有告訴我那是什麼東西,只是露出很可疑的笑容叫我吃而已,就在我很高興的傳了訊息跟Jared說,我今天吃到haggis耶,蠻好吃的,你有吃過嗎? 但他回給我ㄧ個晴天霹靂的訊息,恩那是羊的內臟做的。(冷靜)害我突然覺得好像很可怕的樣子,都是你害的啦~~>_< 。隔天晚上吃飯我問了Peter那個是羊內臟做的唷?他給了我一個惡作劇被抓包的笑容...Orz..後來有一天晚上的street party,他們又拿了haggis出來,我就不敢吃了,而且看起來好像也不太一樣~~
唉呦下次我還要再去試試看!!!!
[That's my haggis, the blacks is haggis, yellow one is turnip and the other is meshed potato]
[Mixed everything]
[With the Scottish Whisky-But I've finish it!!:P]
2005/07/06
The school suspended classes due to G8 meeting. Thus, I took a jaunt to city centre. Joined this demonstration. The procession occupied all the streets from Princess St. to Old Town. I could image the occasion of the summer festival in Edinburgh.
學校因為G8停課一天,所以我只好到街上晃,很幸運的被我遇到這場示威遊行,遊行隊伍幾乎攻佔了整個Edinburgh,從Princess st.到Old Town,到處都被封鎖起來,遊行其實不只這一天有,從這個遊行我可以想像藝術節街上會是什麼樣子了。
[The protest board]
[Demonstration in Edinburgh] Read More...